Repurposed Maize-Flour Sack Duffel & Grocery Bags from Tanzania
[vc_row type="vc_default" margin_top="0″ margin_bottom="5″][vc_column][vc_column_text]Part of the original mission of ADEA is to work with artisans to produce creative products that are appealing to tourists and interesting to international buyers. We attempt to use locally-sourced. Recently, while planning a return trip to the USA, I was in need of an extra bag. About the same time I was shopping in the local "a-little-bit-of-everything" market where I discovered someone selling used maize-flour sacks. "Hmm," I said to myself, followed by an "Aha!! A duffle bag." I eagerly selected four of the white plastic woven bags printed with company logos, ears and stalks of maize, the words "Unga wa Mahindi" (maize flour), and the locator "Mtwara." So I paid my shillings, then, in the nick of time, stopped the seller from folding (and thus creasing) my sacks. I always enjoy the moments when I perplex the locals with my odd diversions from the local norm. The seller was going to fold the sacks, as he does with every other sack buyer, and put them in a flimsy black plastic bag (despite the fact that black plastic bags are legally banned). In a moment of drama I explained, "Usizikungkunja! meaning "Don't fold them!" (At least that is what I was intending it to mean*). He gave me the odd look of, "Dude, it's just a used flour sack!" Nonetheless I saved the bags from creases, rolled them, and placed them in the plastic bag I had brought from home (another oddity).  
The skilled tailor Ali and I designed our repurposed maize-flour sack duffle bag. We determined that in order to maximize its strength, the plastic woven sacks should not be cut. And thus the design was guided by this parameter and the layout of the printed words and images. We chose a coordinating kitenge fabric for the handles and round side panels, and a long sturdy zipper – both found at the "a-little-bit-of-everything" market. And thus was born our first.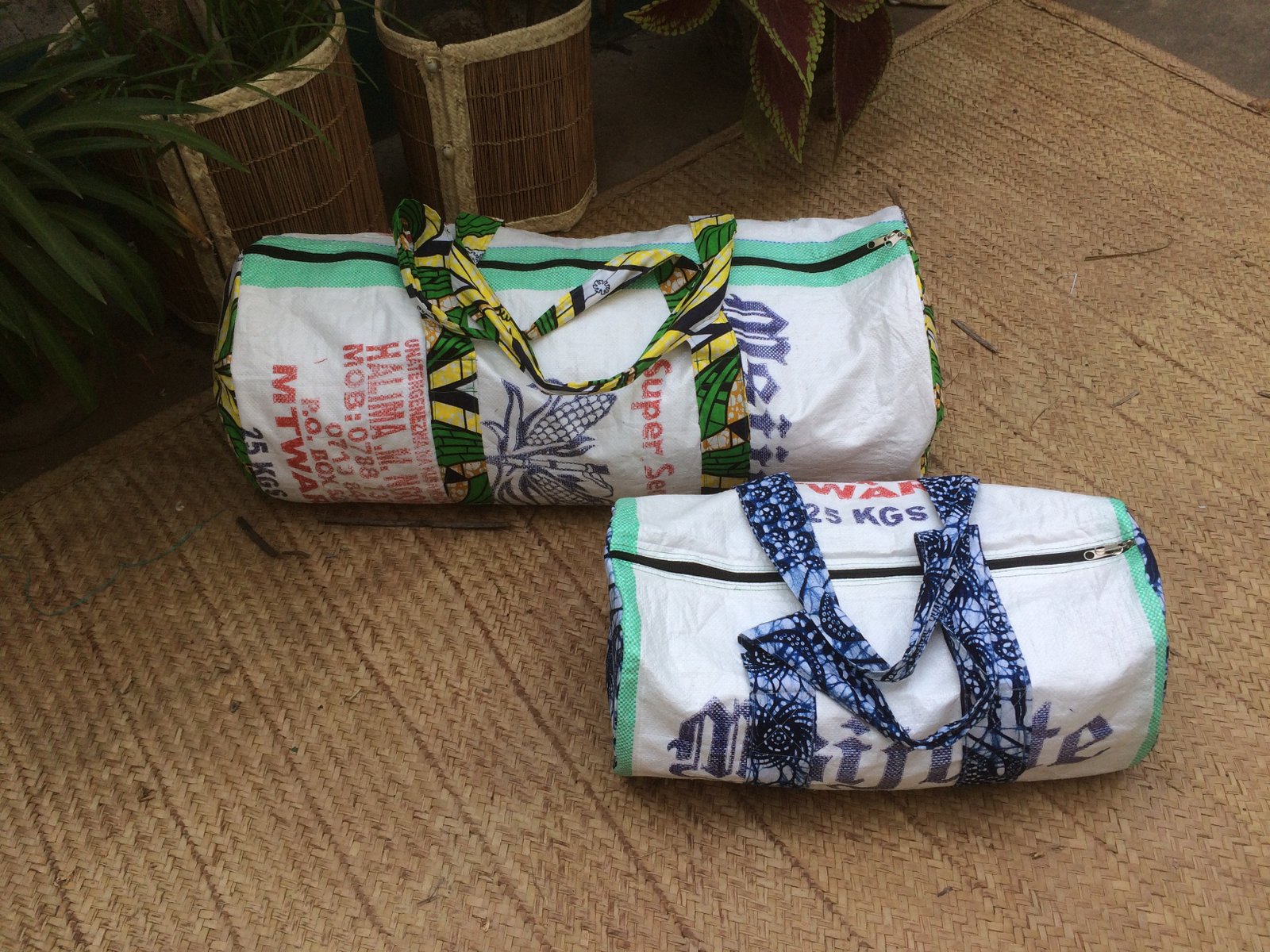 So pleased were we with our new member of the artisan product family that we multiplied our offspring, and soon emerged a small duffle pack. Where the senior duffle bag required two sacks, the junior would use just one. Next to arrive was the grocery back – inspired by a seed of an idea donated from my fabulous friend Amy in Seattle. And the most recent bag to emerge from our womb of creativity is a shorter grocery bag!!!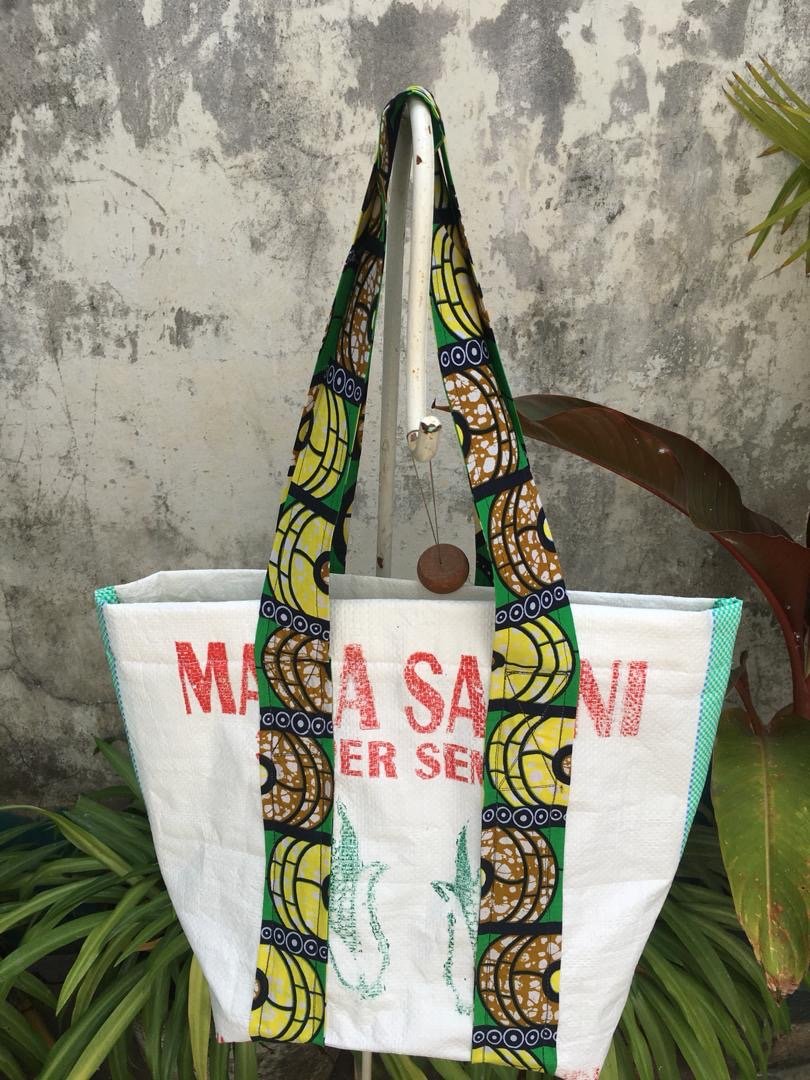 These bags will be available in Seattle by late November: $25 for the grocery bags and small duffle bag, $35 for the larger bag.   Let me know if you are interested! [[email protected] or  cel (206) 227-0082]  These sales help run the museum and the educational programs. They will also be sold along with other products from our artisans at the World Markets Event at University Presbyterian Church in Seattle on Dec. 2.
We have had a great time inventing these bags! Any other suggestions from readers are welcome.
* Once I thought I was explaining to someone that fewer than 25% of the members of Parliament in Tanzania had been to university – but what I was saying was that fewer than 25% of the members of parliament had gone to the bathroom. – Oops!
[/vc_column_text][/vc_column][/vc_row][vc_row type="vc_default" margin_top="0″ margin_bottom="5″][vc_column][vc_column_text][/vc_column_text][/vc_column][/vc_row][vc_row][vc_column][interactive_banner][/vc_column][/vc_row]