[vc_row type="vc_default" margin_top="0″ margin_bottom="5″][vc_column][vc_column_text]Being about four weeks ago, our small museum has experienced a daily inundation of primary school children at our museum; some days more than 30. They come during their lunch break and after school. They come to see the exhibits, look through picture books, play the hands-on instruments, and listen to the GuideID audio programs over and over again. This is a wonderful, and yet a challenging development. Challenging because we currently don't have (nor can afford) enough staff to monitor so many students. But additionally, we want to be sure that they are learning, and not merely distracting themselves. For sure, per conversations with students, they are indeed learning some things: They are reinforcing lessons taught in their classrooms related to traditional culture and artifacts. They are also learning to ask questions (which is brilliant as most classrooms engage in rote learning). But we would like to develop some activities that can help us to better manage the crowds of students, and create learning activities that reinforce classroom learning*. Ideally, we will develop activities and games for children to learn and play at our museum that can easily be replicated easily and inexpensively. And thus, ABCs and Bottle Caps was born.
We are currently collecting bottle caps (and there are lots and lots of soda and beer bottle caps around for free).  On the underside we write the letters A to Z.
Game 1 – Match the A to Z letters on bottle caps in a sack with a line of lettered bottle caps glued on a board.
Game 2 – Put them A to Z in a line without help of a model.
Game 3 – Draw the bottle caps from a sack and put them in order as you draw them.
Game 4 – (not yet invented) – likely related to word building – suggestions welcome.
To join the current educational trend of "Evidence Based Learning" (meaning proof that activities that are intended to teach are actually teaching), we will make a baseline study testing to what extend the children are able to put the lettered caps in a line in 5 minutes when given the bottle caps with letters for the first time.  Then, during the week the students will be invited to come to the museum and play these (and other) practice games.  In order to keep track of how much time a child is spending playing these learning activities they will have to check-out sacks with the caps so we know how often and how long they have played.   After a week we will give the initial test again and note improvement related to data collected.   After our short study, we will invite the students to collect 26 bottle caps on their own and we will write the letters on them and give them a sack – we will be interested to learn how many take up this invitation.
Stay tune for the impact.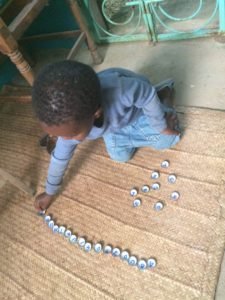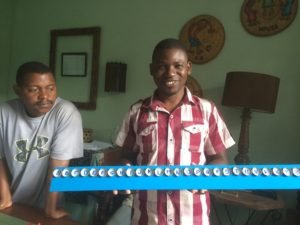 *Motivation:
There is a huge challenge in the developing world. In 2000 UNESCO inaugurated the "Education for All" commitment "to provide basic quality education for all children, youth, and adults"** by 2015. As would be expected, different countries experienced different levels of success in reaching this goal. Tanzania succeeded to get the majority of the primary age children into classrooms. However, with poorly funded, under-educated, and under-trained teachers the learning occurring in too many schools is very low. At ADEA/the MaKuYa Museum we are exploring to see if our museum can partner with teachers to help better educate the children here.
**(http://www.unesco.org/new/en/education/themes/leading-the-international-agenda/education-for-all/)
Please consider a contribution to help us to get these and other programs going.  Anything helps.
Thank you – Asante Sana – Ashe oleng
Douglas – Kupikita – Oloikurrkurr
Reminder: The foundational purpose to these blogs is to invite financial support that will allow ADEA to keep our team paid, and our programs going and improving. Please consider a one time or monthly gifts.[/vc_column_text][/vc_column][/vc_row][vc_row][vc_column][interactive_banner][/vc_column][/vc_row]