I'll Buy All Your Bananas If You Can Find Mexico
[vc_row type="vc_default" margin_top="0″ margin_bottom="5″][vc_column][vc_column_text]In the hall in font of my office hangs a brightly colored world map. I often refer to it, to help my team understand where I come from or where I am going, or when I dream about cooler places when I become weary of the heat or dust. A normal part of my day is a visit from the banana seller. Since she is very familiar with ADEA, she usually walks through our museum – passing the bark cloth table and the dance costume display to reach my office with her tray of bananas on her head. Occasionally her baby is strapped on her back in the local fashion with a piece brightly colored fabric. One day, about a year ago, she came into my office wearing a T-shirt printed with the message "Hecho en Mexico".   So I wagered her – "Ukiwaze nionyesha ukowapi nchi wa Mexico katika ramani ya dunia, nitazinunua ndizi zako zote" (that is – If you can show me where is the country of Mexico is located on the world map, I will buy all your bananas). She took on my challenge, and ten minutes later everyone in the office (including the AfriMak artists) was eating bananas – 36 in all. Instead of taking her winnings and running, she remained for twenty more minutes with one of our museum team member discussing and exploring the map.   It is likely that this woman had only studied through a primary school level, and may have never seen a map before. It was beautiful to watch how she began to make sense of it by at first locating places known to her: Tanzania, Mozambique and the Indian Ocean, and then finding places of names that were familiar to her: Kenya, Europe, the United States, China.
This event was a learning experiment that would later lead to our Kuijua Jiografia (To Know Geography) exhibit that paired local passion and knowledge of global football/soccer leagues and players with world maps.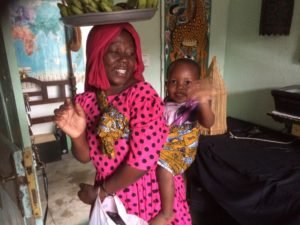 Thank you – Asante Sana – Ashe oleng
Douglas – Kupikita – Oloikurrkurr
Reminder: The foundational purpose to these blogs is to invite financial support that will allow ADEA to keep our team paid, and our programs going and improving. Please consider a one time or monthly gifts.[/vc_column_text][/vc_column][/vc_row][vc_row][vc_column][interactive_banner][/vc_column][/vc_row]